---
FAQs about dogs and other animals in the classroom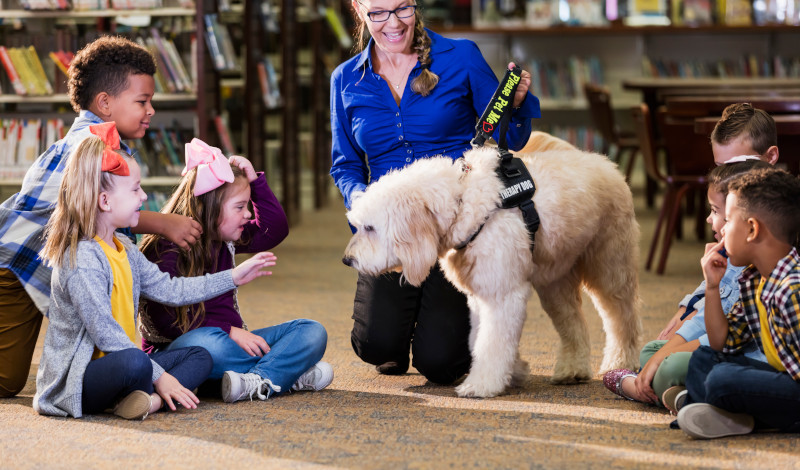 Have you thought about bringing a therapy dog to your school? Are you concerned about whether the legal liability you might experience outweighs the benefit of having a dog in your classroom? CM Regent has worked with many schools that have a variety of animals in classrooms, and here we answer some of the most common questions you might have.
What is a therapy dog?
Three different types of dogs may be used:
A service/assistance dog is specially trained to perform a task for a person with a disability and is allowed anywhere the person goes.
A therapy dog has a special aptitude for interacting with people. Therapy dog owners volunteer their time to visit facilities with their animals. The dog has no special rights of access, except in facilities where it is welcome.
An emotional support animal must be prescribed by a licensed mental health professional for a person with a mental illness. An individual with an emotional support animal does not have the same rights to public access as a person with a service dog.
What do we do if children are allergic to dogs?
Therapy dogs should only be used in situations where the parents are fully aware the dog will be present. If you will be bringing such a dog into a school, treat it like a field trip and require parents/legal guardians to sign permission forms. Any child who is allergic to dogs will be kept separate from the animal.
What should we require of those who bring therapy dogs into our school?
Some of your requirements should include:
The owner should have housed the dog for at least 30 days and be able to demonstrate familiarity with the dog's habits.
The dog should be current on all required vaccinations.
The dog should be potty trained, have good hygiene and demonstrate basic obedience skills.
What is our legal liability for anything that might happen while the dog is on our premises?
You should require each pet therapy visitor to possess personal liability insurance. Organizations such as Pet Partners and Therapy Dogs International help train, evaluate and sponsor their dog handlers. Handlers from these organizations carry insurance coverage of $1-2 million to cover any damages.
Aside from requiring handlers to show proof of insurance, you could also rely on consent forms. Only allow children whose parents/legal guardians have signed a consent form to interact with the dog. A carefully worded consent form reviewed by your legal counsel can reduce your school's liability.
Check out these additional resources for more information about protecting your students and school.