---
How to manage therapy animals in your school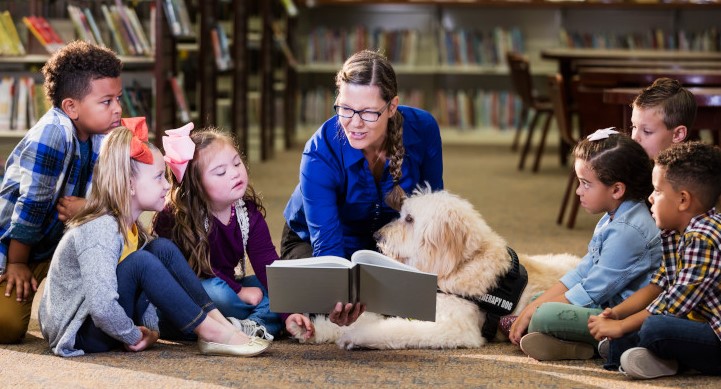 It's important that both your students and staff take steps to recognize their sources of stress and try to decrease it as much as possible. More than ever, people across the U.S. are using animals to relieve stress. Today (Nov. 2), on U.S. National Stress Awareness Day, CM Regent wants you to know what it means to use dogs in schools as therapy animals, and how you can minimize your risk if such a situation presents itself.
Classifications for animals
There are three different types of animals that provide support:
Therapy animals have a special aptitude for interacting with people. Their owners volunteer their time to visit health care facilities, schools and other locations with their animal. These animals have no special rights of access.
Service animals are specially trained to perform tasks for people with disabilities. They are allowed almost anywhere the general public is allowed.
Emotional support animals provide therapeutic support to people with a mental illness. It must be prescribed by a licensed mental health professional, stating that the person has an impairment that substantially limits their activities. Emotional support animals can only accompany their owners with a facility's permission.
Preparing for therapy dogs in your school
The first step is to perform a site assessment to ensure your school has all the assets necessary to handle a therapy dog. A dog therapy organization could help with the assessment and provide you with a checklist.
Some concerns you may have about allowing a dog in your school include:
The possibility the dog may bite someone. The owner of the dog would most likely be liable in such a situation, but there have been cases in which a workplace was considered liable for allowing an employee to bring a dog on campus. You could require that anyone who brings a dog to your facility show proof they are fully insured to cover any damage or injury caused by the dog.
The dog could make a mess. Anyone who brings a dog into a school must be fully prepared to clean up waste and sanitize any areas as needed.
The dog could be noisy or disruptive by barking or whining. In such situations, the dog should immediately be removed from the premises. Any well-trained therapy dog should be able to behave in a public situation.
If your school decides to allow therapy dogs, it's a good idea to have the school's lawyer draft a pet policy that covers all of the above concerns.
For more information about managing the risks of therapy animals, check out "There's a dog in my classroom."